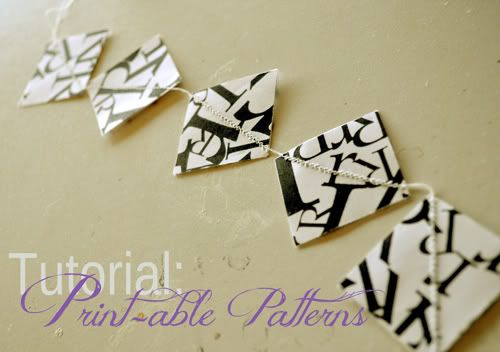 A guest post by Rachel Anne Jones
As part of my work, I get to make a lot of patterns on Photoshop. I used to hunt everywhere for a good pattern because they look scary and impressive and I assumed they were hard to make. At one time, they must have been a hassle and a half for Victorian illustrators. But now they're actually quite easy to do thanks to computers. I'm going to use Photoshop for this, but you can easily use MSN Paint for what we're going to do.
I've been itching to make a garland. But I am uninspired by my heap of scrap paper. So, this is the perfect time to make my own pattern--PS this project is $0 if you already have a printer and a sewing machine. Counting thread and paper...maybe .2 cents.
1. Draw the beginning of a pattern
. When you get to the edges, stop. For this pattern I decided to use the letter "r." There is no art involved with this, I just plopped them on and rotated them, shrunk them, just randomly spaced them throughout trying not to put two same r's next to each other the same way. (Your patterns are probably going to be more precise and stuff but I wanted to show how you don't have to follow a grid to still get a pattern in the end.)
2. Now
cut your picture in half hamburger-wise and flip them
.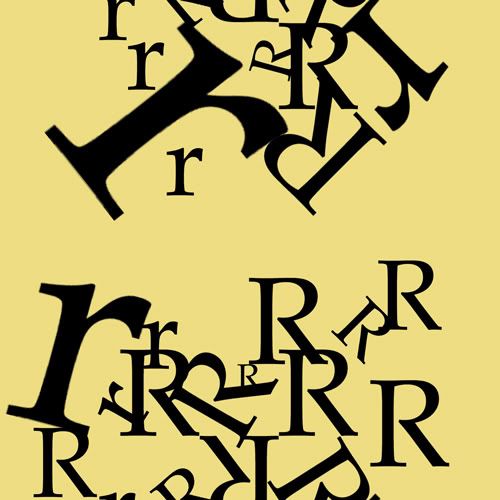 3.
fill in the middle
, when you get to the edges, stop.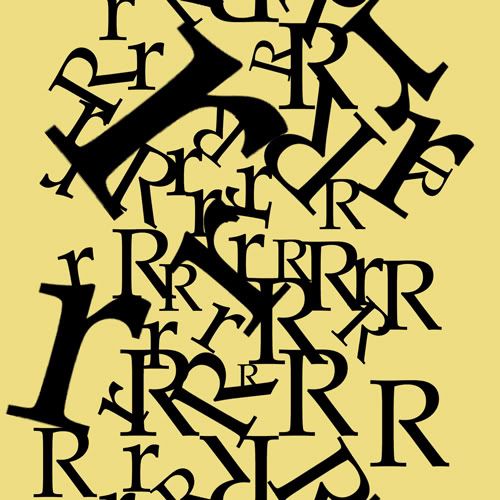 4. Now
cut the picture hot-dog-wise and flip
5.
fill in the middle
and stop.
you might want to cut in half hamburger-wise one more time before testing out your pattern.
So I'd probably tweak mine before using it as a background for a full scrapbook page, but I know I'm going to be cutting it into little squares for my garland, as seen in the first picture of this post. Using a square punch and the sewing machine it took all of 5 minutes to stitch together (at this point, I think there's more garlands on the internet than human beings so I'll skip the instructions for that part)
I've also enjoyed sites like spoonflower.com which let you print out your patterns on fabric for making custom quilts and bags for a decent price. Hopefully this makes patterns less intimidating, so the next time you need a certain pattern in a certain color--take a plunge and try making it yourself. You'll be surprised how quickly they come together.