A note from Ashley: this project is so incredibly beautiful - it would make a wonderful homemade gift for Mother's Day!
By contributor
Rachel Anne Jones
It's finally springtime, and because it's springtime, it's picnic time. We love eating in the backyard once the weather clears up, and while we nearly always have some cut flowers on the dining table, usually our only centerpiece for our outside eating is a pile of hamburgers and ketchup. So here's a centerpiece you can just keep outside all the time--because it's made out of ground cover and a piece of left-over irrigation tubing. I've seen this done by floral artists who make huge fantastical flower baskets for weddings, and I always assumed it was very difficult to do (since the world of plants eludes me), but it's actually pretty easy, and it's also pretty cheap.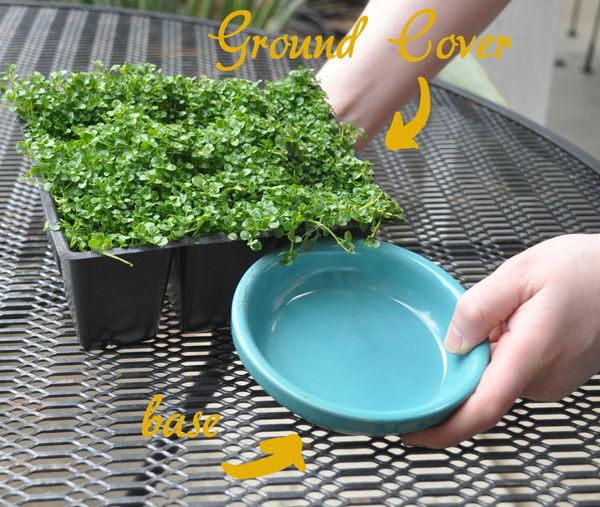 First, start with some ground cover, there's several different varieties to choose from, and I chose this spunky one because it reminded me of chia pets and those are fond memories. It was also three bucks for the whole carton so...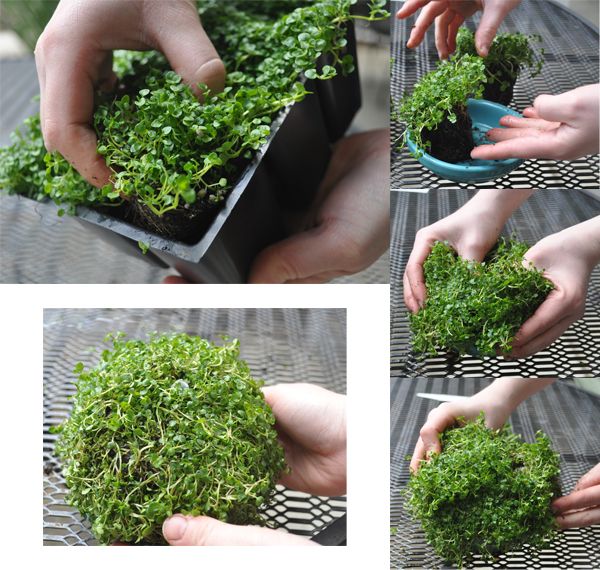 Starting with your base, mold each square carefully until you make a sphere. I had three for the bottom and then worked up the sides until I could plug the top, making a round ball that I squeezed and held together with the aid of five or so toothpicks.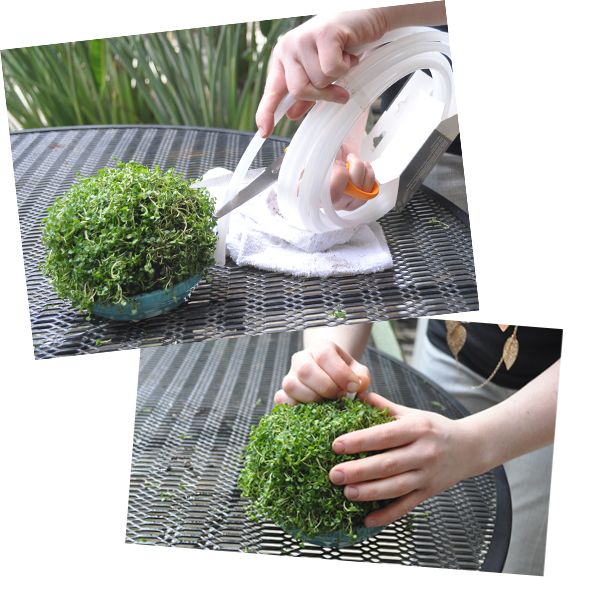 Now take your tubing, cut off a little bit (it's going to be where we stick our flower stems) and then use hot-glue to seal the bottom. That way you can fill the tube with water, if you so desire, so your cut flowers will last a little longer. Once the tube is inside, you'll barely see it, so it will appear as if your flowers are growing straight out of the ball of ground cover. I used sweet-pea flowers, chive-buds, and whatever that pink one is called (it might be hibiscus maybe?). And now it's ready to soak up the sun and get watered when it's dry.
When I did this project I did it on a base without a hole in the bottom so the water couldn't drain. That probably wasn't the best idea looking back, so you may want to have a hole in yours so the standing water doesn't flood your ground cover Although it's my understanding that ground cover is pretty hard to kill, this won't last forever because the roots can only go so deep, but it should last a nice while, and can be trimmed down as it grows.